My dream was to one day have a Japanese soaking tub so when my husband and I decided to build our own house with a Japanese aesthetic, I was so pleased to find your website with my dream tub! A true work of art.
We had many delays and my poor tub sat on the back porch of our rental for almost 3 years.
I would proudly show it off to my friends and would take it into the house during the very cold winter nights.
Now it has a proper home in our master bath and every time I bathe I feel like I am in heaven. There is nothing like being embraced by water up above the shoulders and breathing the other worldly aroma of the wood. The worries of the day disparate as I am transported to a timeless place of peace.
Thank you for building it with such loving care and attention.

R.R.
robinolivereich.com
https://www.instagram.com/orangegreyhound/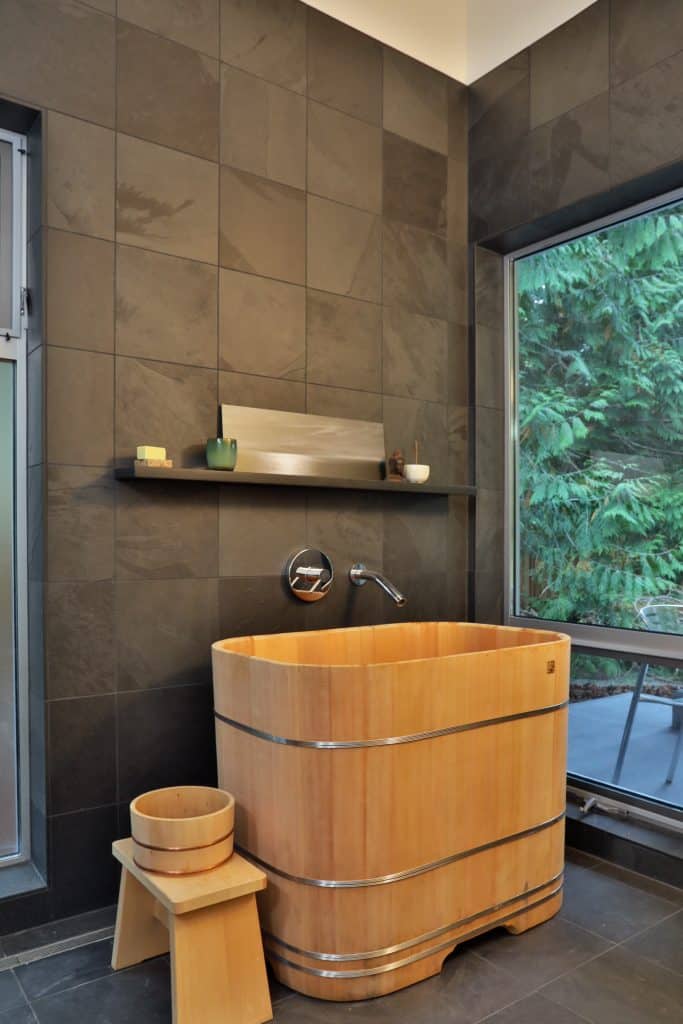 What a lovely comment we have received!
And soooo beautiful photos! Thank you R. san!
We are glad the long odissey of R.`s ofuro blossomed into an happy end and also the fact that if properly wrapped to prevent dehidration, also a kadomaru bathtub can remain in perfect conditions after 3 years of storage!

And I think the orange/gold of the sawara tub is strikingly beautiful coordinated with the antrax of the tiles and the fresh green of the outdoors.
Dear R.: I must say we are very envious of your new house!