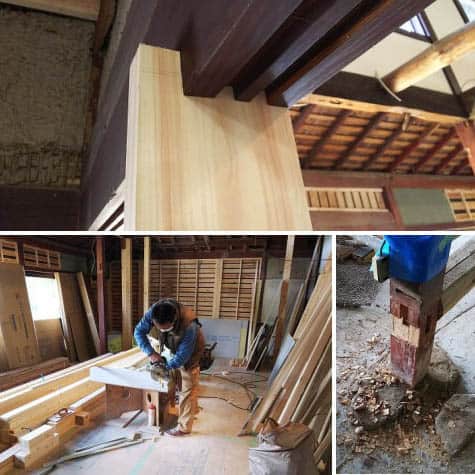 Following all the talks in April and May, we are finally ready to start with the enrollment of students interested in learning the traditional japanese wood construction crafts!!!

We are starting a new renovation project and are ready to enroll students.
Officially we are aiming at July 1st but if you are planning to come to Japan in June, we are basically ready to welcome you anytime.

The students will both the taught the principles of the craft and will also have the possibility of working in the actual construction site.
It will be an experimental phase with the following conditions:
no enrollment and no lesson fees.
no fixed dates for start/end but at least consequent 2 weeks (12 days is required)
possibility of lodging at low cost (possibility of waiving the cost if you are contributing positively in the construction)
the students have to agree that their photos may be published on the internet for promotional/informational purposes
this experimental phase will finish in september 2019 and may be extended (or may not) until the end of 2019.
You will have to provide for all transportation costs.
Craftsmen may not speak english but we will do our best to ensure you have a comfortable and satisfactory communication.
We still have to work on VISA issues, insurance,fees structure etc.
Basically in this first experimental phase, students will be technically "tourists" who participate in "experience tourism" sessions.
We will provide an insurance to cover the risk of accidents / illness while you are with us.
Please contact iacopo at –> japan@bartokdesign.com <– indicating your name, contact address, period in which you are interested and any questions you may have.
I am looking forward to hearing from you!