sorry, sold out!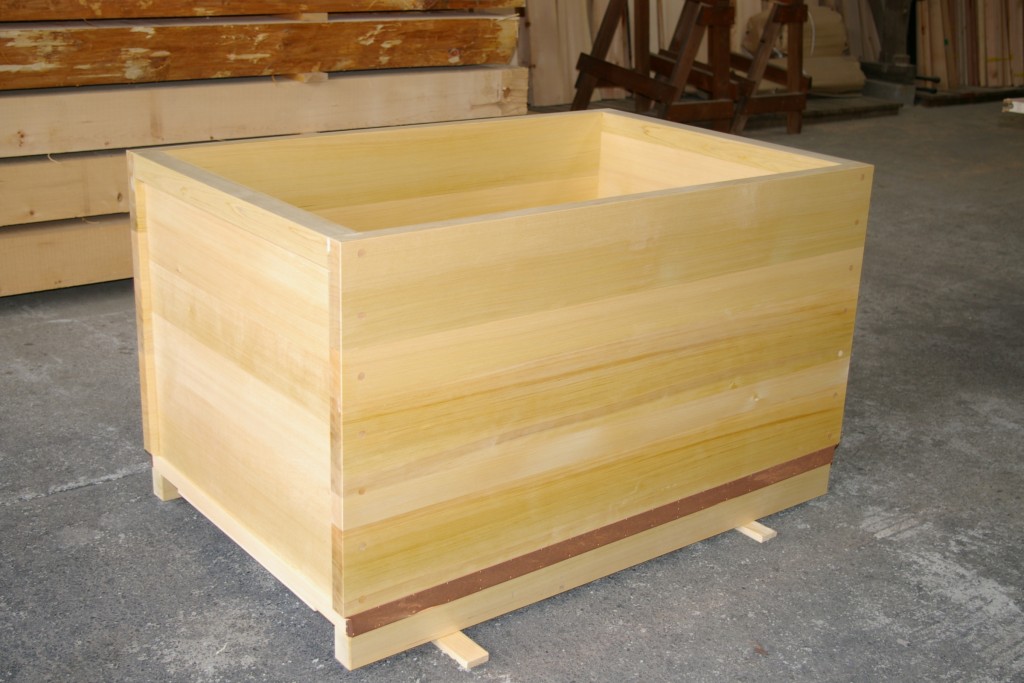 Asnaro is very aromatic and its "forest scent" perfectly matches the spring-time atmosphere.
We had just the right lot so we decided to make a new outlet tub.
This tub is not only new, it has a new design – and I am sure it will become a classic!
It did not happen on the design table, it was just when we were picking up the material to laminate the sides we noticed we were just a little short. Of course we could re-assort the planks to compose a different size but playing with the lumber that was there we had an inspiration.
I am almost sure that the asnaro aroma kind of made this idea sprung from Nobuhiro`s mind.
He said: why don`t we apply a kamachi (top frame border) only on the short sides?
This makes the corners flush when you look at it from the top, additionally it makes it easy to lift the tub (like a handle) from the head and feet side.
From now on, I will call it "half-kamachi detail" until I come up with a better term.
This springy, fresh design outlet tub is made with straight grain asnaro-hiba.
Details as here below:
L1150mm x W750mm x H675mm (external dimensions) 580mm(depth) knotless natural Asnaro wood bathtub.
1) AB grade tub (quatersawn) : 410,000. JPY
2) Packaging: 135x95x88cm plywood box: 36,000. JPY
3) transportation: to be quoted (please let us know your exact address: we will provide a quotation before you purchase the tub)
Please check the drawing here for the detailed dimensions: outlet170421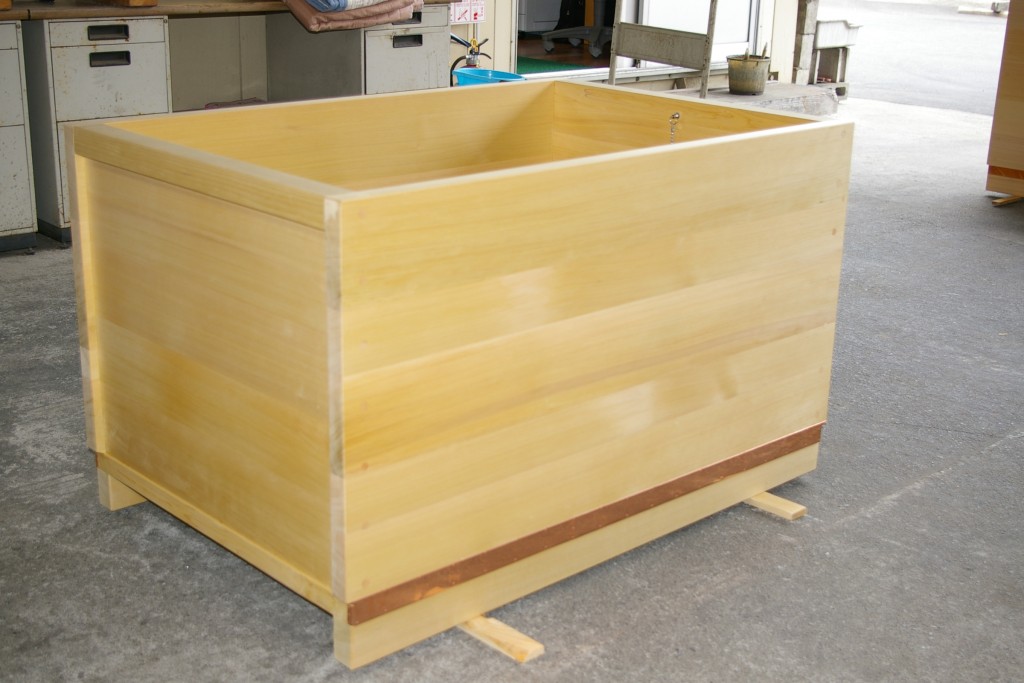 This tub does not have a "back side". It has the copper apron on both sides so we can apply the iron brand on whichever side – if you want. About the short side, you can see what I was meaning by saying that the "half-kamachi" can be used as a handle to grab and lift the tub.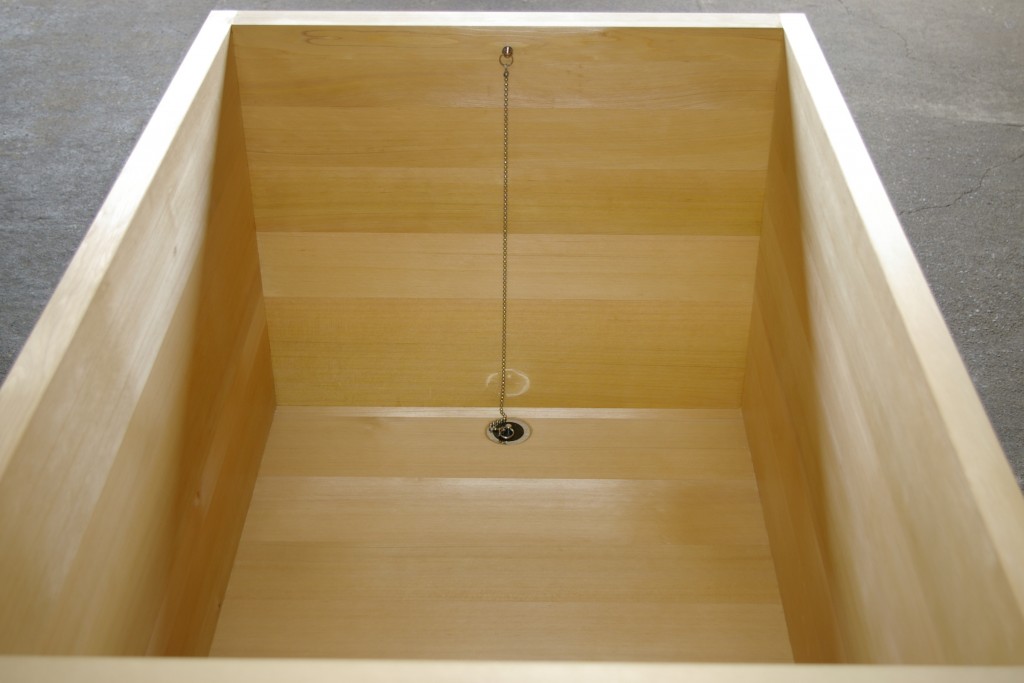 The immaculate interior of the tub!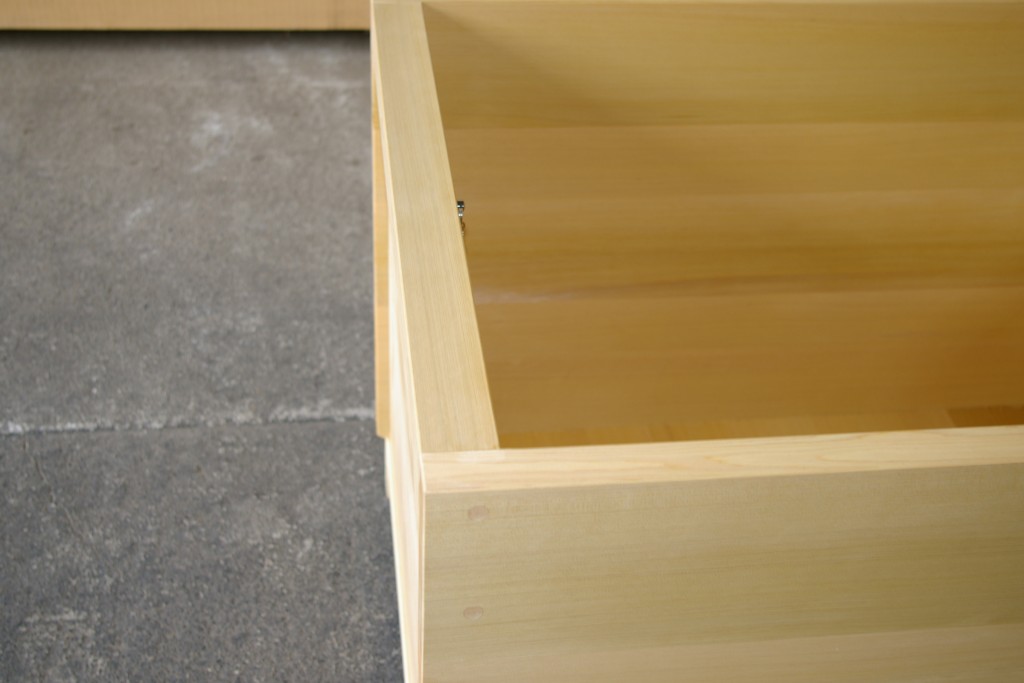 And this is the "half -kamachi" seen from the top. It makes the forner look flush (L-shaped)
If you like this tub, I recommend to contact us soon. I am sure it will not last!