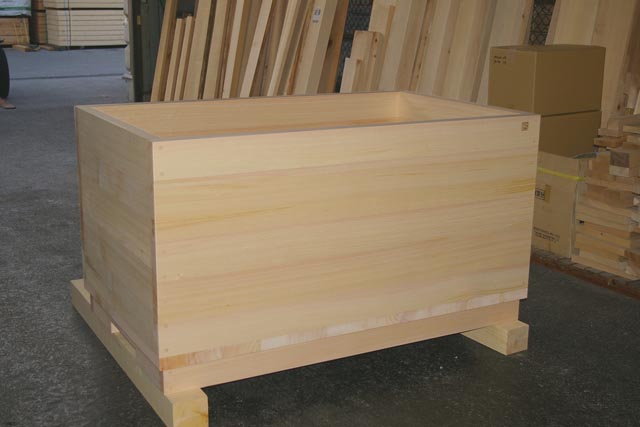 We had the honour and the pleasure to deal with a top class construction company for this project.
An extracomfortable L1560mm x W950mm x H845mm hinoki tub was designed and built to retain all the archetypical simplicity and grace of hinoki.
To obtain this box-like design we opted for an extra thick wall plank (50mm in place of the normal 35mm) and used only quarter sawn cut.
This detail allowed us to do without the top frame border.
Also, the corners of the tub are simply "L" shaped in place of the traditional "T" shape (see picture below.) Of course this was possible only because of the thick plank which gives more structural stability and width to set the dowels. Waterproofing and protection of the side of plank in the joint is also assured with this detail.
The architect office required us the bottom sleeper to be recessed like a base molding, to match the design of the rest of the room and cabinetry.
I am looking forward to see this installed!