With more than 24hours left, we reached the funding goal for the hinoki aroma cards campaign!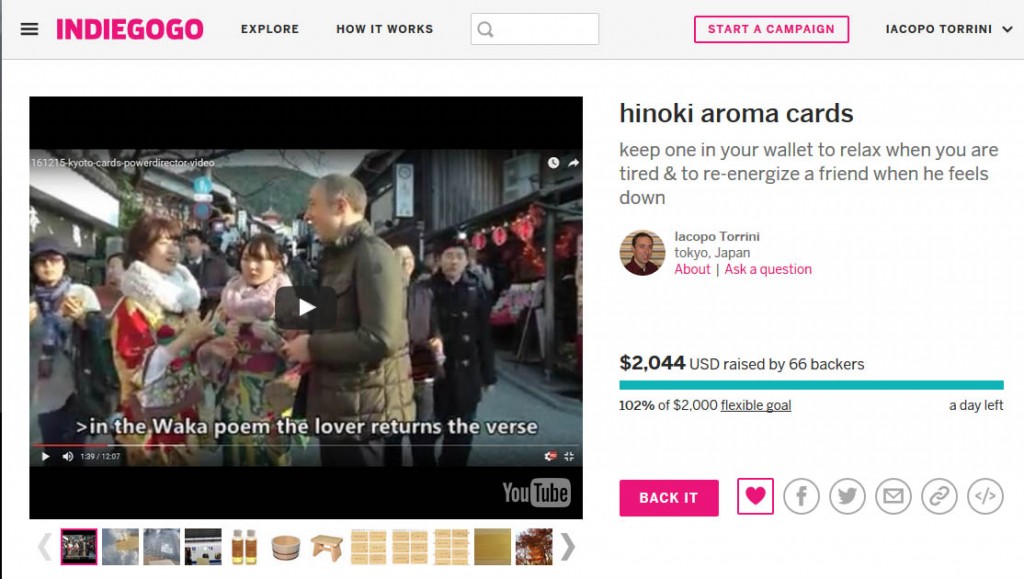 I was prepared to boil to the last minutes begging for help but a kind soul saved me from a possible heart-stroke by pledging a hefty 300 USD!
Here is the message I received:
Hello Iacopo,
Have just made your $2000 work for you on the Indiegogo site.
Let me know how it goes…. and if you need any further help.
I really am looking forward to seeing and smelling the final product.
It was an experience of overwhelming joy!
I corresponded before with him but never met in person.
Nevertheless, he is treating me like a friend, helping me even if he does not share my purpose, just because he knows it is important to me.
I hope I will have the chance to return the favor very soon!
Thank you also to the 60+ people who believed in the project and made a pledge.
I should be able to ship the cards around the end of march.
A special thanks goes also to D. who made several small contributions.
She made one more order few hours ago and added:
I just pledged 15 USD and, purchased an additional set…
I want you to be successful!
This is a wonderful idea.
It was exciting to have so many people believing in the project!
It was also very fulfilling that even some who did not believe in the project contributed anyway.
Thank you all and keep your expectations high! The hinoki aroma cards will be amazing!