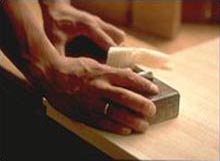 There is a step above the "handmade look". Chisel and plane are the only tools used by the master "daiku": yet he creates a perfectly square, smooth sculpture. No sealants or caulking are used but the masterful joints are invisible. There is no need for outspoken pride or rhetorics: this is the essence of perfect handwork.
hinoki bath-tubs are entirely hand planed ->
Who said that "handmade" has the downside of being rough?
Why shouldn't "natural" be long-lasting?
Is it possible to have a "healthy" bathtub which is also beautiful and practical?
A hinoki tub is a masterfully built, smooth, natural and healthy, an easy-to-install and to maintain solution for your home: a WIN – WIN situation.