Description
Shuhari is a Japanese concept which describes the stages of learning to mastery,
It is cross-disciplinary and is at the core of martial arts, tea ceremony, ikebana, noh theater, 'GO' and basically any for of art that is also meant as a channel for self-discovery.
Shuhari roughly translates to "protect",  "breach", "detach": as in "follow the rules, break the rules, transcend the rules".
Shu-ha-ri can be decomposed in 3 kanjis (from wikipedia):
shu (守) "protect", "obey"—traditional wisdom—learning fundamentals, techniques, heuristics, proverbs.
ha (破) "detach", "digress"—breaking with tradition—detachment from the illusions of self, to break with tradition – to find exceptions to traditional wisdom, to find new approaches. In some styles of Japanese music (gagaku and noh), it is also the middle of the song.
ri (離) "leave", "separate"—transcendence—there are no techniques or proverbs, all moves are natural, becoming one with spirit alone without clinging to forms; transcending the physical – there is no traditional technique or wisdom, all movements are allowed.
"Shu-Ha-Ri kimono belts" are a new development of Japanese traditional obi: the belt always used when wearing a kimono.
Who and why
I am an italian born architect, living in Japan for 25 years.
I am also the largest exporter of japanese wooden bathtubs with over 1000 units exported worldwide in 20 years.
As you can imagine, I love Japan and am very passionate about Japanese culture.
Traditional crafts related to housing and construction are endangered and in the past 10 years, I ran 6 crowdfunding campaigns for salvaging and relocating buildings,  promoting awareness about forestry, ecology, and traditional woodcrafts.
But all Japanese crafts are interconnected as they belong to the same aesthetic realm, the same harmonious lifestyle that characterized Edo period Japan.
Recently I am deepening my connections among the traditional wear crafts: the mesmerizing world on KIMONO!
If any, this sector is even more endangered than other types of Japanese crafts because the protagonists are rapidly aging and there is no new generation ready to receive their inheritance.
With the "SHU-HA-RI KIMONO BELTS"  project I intend to bring awareness towards a world of life mastery and technical excellence that stands behind the design and manufacture of OBI belts used with traditional kimonos.
The biggest enemy of traditional crafts is "museumification".
With the "SHU-HA-RI KIMONO BELTS" my aim is to bring kimono patterns and traditional fabric textures into everyday life.
"SHU-HA-RI KIMONO BELTS" are highly practical and you can adopt Japanese traditional crafts without any compromise in comfort and functionality
10% of all the sales in this campaign will be used to order new obi belts from "Watabun", "Tatsumura" and other endangered makers of the Nishijin weaving area in Kyoto.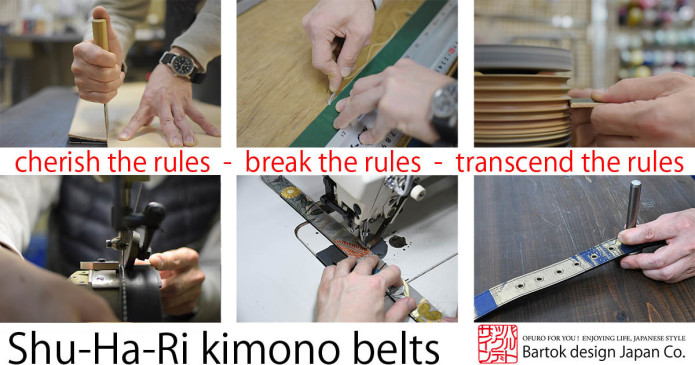 Keywords
1000% (that`s a thousand percent) MADE IN JAPAN!! : this is of course a guarantee of quality, careful manufacture, and passion for the details.
SUSTAINABILITY: we use vintage fabric which is a way to bring new life to existing materials without the need to tap into natural resources.
TRADITION: This project brings visibility to the mesmerizing world of kimono: the materials, the design patterns, the symbiosis with the cycle of seasons, and the subtle esthetics behind it.
CUTTING EDGE: Sometimes you may think that we are a little over the edge… But this is because we enjoy doing new things that were not done before. Otherwise, where is the fun?
Our mission
We all love kimonos but as it may impractical to wear them on a daily basis in our normal lives, we fail to challenge and support economically the manufacturers with our user`s demand.
Our love and appreciation for the traditional crafts remains in the realm of "wishful thinking".
But with the "SHU-HA-RI KIMONO BELTS" you can make a fashionable statesment without sacrificing practicality. Last but not least, you can concretely support the traditional crafts and provide the masters a new stimulus to continue in creating the future standing on the shoulders of giants.
Maintenance and warranty
Belts hole metal eyelets can deform/detach. → if noticed during the first month after reception, send back to us, we will repair for free
Belt is made of fabric and it can become stained → some stains can be removed safely. Consult with your dry cleaner or send to us. (this service is not free and will assess cost of stain removal from the picture you send us)
Postal service delivery problem → We use EMS postal service. If the wooden box is damaged, we will replace it.
If the parcel gets lost we will resend another belt (the pattern will be different and depending on the circumstances, you may have to choose a different design)