Description
Hinokitiol, also known as β-Thujaplicin; 4-Isopropyltropolone is used as a component for soaps, scalp treatments, skin acne treatments.
Probably one of the more powerful and more stable Phytoncide (vegetal "exterminator" of germs and pests), hinokitiol is a completely natural disinfectant.
Chemically, belonging to the family of terpenoids, is extracted from hiba oil with a laborious ultrasonication process that takes about 6 months.
We extract hinokitiol from cedarwood essential oil (extracted from Asnaro Hiba – botanical name: Thujopsis dolabrata). Hiba oil has a yield of about 2% (it takes 50 Kg of wood to obtain 100g of oil)
Hinokitiol content within the oil is about 1% so it takes 5000Kg of wood to obtain 100g of pure crystallized hinokitiol)
We sell hinokitiol powder in 2g. / 5g. / 10g. / 20g. / 50g. / 100g. glass bottles:
It can be diluted in ethanol, ether or water (max 1.2% therefore 1.2g per 1 L of water).
We are not doctors nor medical researchers but since its discovery in 1936 hinokitiol has been used as a fungicidal, germicidal and is active component of thousand of topical medications, antibiotics and cosmetics.
Here are some specialized articles on the topic.
Antibacterial_Activity_of_Terpenes_and_Terpenoids_
In vitro antimicrobial and anticancer p..
Hinokitiol _ C10H12O2 – PubChem
cedarwood-oil-MRP-NYSIPM (←this is about hiba oil from which we extract the hinokitiol powder)
Update april 2020: We are receiving many inquiries and purchase orders for use as a disinfectant for surfaces, ambient air (with air diffusers) etc.
As it dilutes in water 1:100, 2 grams will be enough to mix 2 liters of hinokitiol water. A portable humidifier vaporizes about 40 ml per hour so 2 liters is enough for 50 hours of use.

Please check the video below:
We only carry natural hinokitiol (we do not sell the synthetic type). Natural hinokitiol is classified as "irritant", anyway it has low toxicity for humans and other mammals. We cannot recommend for direct inalation but we know that some people are using diluted hinokitiol water for aerosol. Consult with your doctor. We do not offer any guarantee and cannot take any responsibility.
In the picture below is 1g of hinokitiol powder.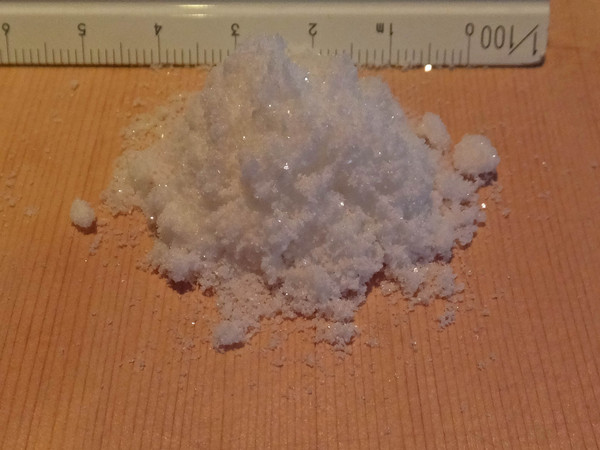 Hinokitiol has a natural bactericidal action and can prevent skin scaling, dandruff, acne or atopic dermatitis (eczema).
It can be used as a treatment for skin diseases.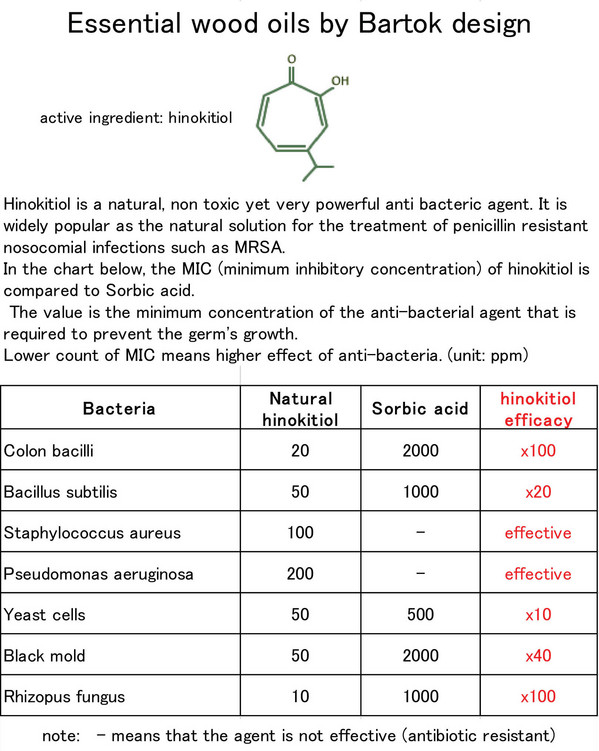 (Asnaro)-Hiba tree has a high concentration of hinokitiol (also known as Thujopsene) which has very powerful antiseptic properties. J. Antimicrob. Chemother.-2003-Arima-113-22.pdf
Hiba oil has a very strong forest scent, reminescent of cedarwood, maybe too intense for many people, especially ladies.
Also, even though allergic reactions are very rare, concentrate application of hiba oil directly on skin may cause a temporary rush and itching.
On the other hand, the hiba oil has a natural content of hinokitiol (about 2%) which makes it an asset when used against skin infections or for food preservation.
For this reason, we extracted pure hinokitiol (powder) and add it to hinoki oil which has a more gentle and widely appreciated aroma.
Please contact us for more details and bulk purchase options.
---
USE SUGGESTION:
Hinoki aroma oil is the beloved delicate, citrus-scented quintessential japanese essential oil.
But ironically its content of hinokitiol is extremely low! (The name originates from the fact is was first isolated in Taiwanese hinoki, on the other hand it is widely contained in hiba cedarwood)
Hinokitiol is the miraculous terpenoid with high bactericidal power. It is even effective on penicillin resistant nosocomial infections such as MRSA, and it is all natural!
We provide hinokitiol powder in you can add to the oil (in 5%, 10%, 15% concentrations) for enhanced skin care and skin healing performance.
PRODUCTS LINE:
We sell 100% pure japanese hinoki essential oil (extracted thru steam distillation of the trunk heartwood) in 10ml bottles.
We also offer bottles of pure hinokitiol crystals in 6 size options.
INSTRUCTIONS:
To contain the costs and to provide always fresh stock, we discontinued the pre-mixed hinoki oil + hinokitiol but you can purchase the 2 products and mix them to prepare easily the enriched hinoki oil at your home.
Remove the drip cap from the hinoki essential oil bottle
Cap it and warm up the oil in bain marie
Pour the hinokitiol powder inside with the aid of a small pad or toothpick and mix it with the hinokitiol to obtain the desired concentration. Adding 1g of hinokitiol to 10ml of hinoki oil would give you a 12% hinokitiol solution. About 6 times the concentration present in hiba oil.
You can apply the oil directly on the skin (try first a small amount) or place few drops in water used for washing or in the bathtub. Remember that oil becomes soluble in water when mixed with ethanol (ethyl alcohol). Please purchase the ethanol at your drugstore.
You can also add the hinokitiol powder to your favourite skin cream. First check with a small amount to verify any incompatibility.