Soaking in a bathtub every evening is part of the way of life for many Japanese. A part for cleaning the body from the dust of the outside world, a bath before going to bed is relaxing and warms up the body to stand even a long and cold winter night.
Japanese bathrooms are built so that there is a separate area for washing hair and body before entering into a warm bath to soak and relax. Because the bath water is not used of cleansing, the tub doesn't have to be refilled for every member of the family.
The Japanese are also masters of efficiently using space and of course they apply this skill to their bathrooms as well. Ofuro tubs are shorter in length than regular western tubs but they also have greater depth, which means one can soak in a sitting position with warm water up to their shoulders. Many ofuros come with built in benches so that you can sit in a comfortable position and enjoy your bath. In addition the smaller size not only tends to use less water but the reduced surface area keeps the water warm longer.
Although traditional Japanese ofuros are made out of hinoki wood, nowadays most of bathtubs for normal homes in Japan are made of synthetic materials such as acrylic or FRP. The size of these tubs tend to fall between traditional Japanese tubs and western style tubs. FRP Ofuros and are easy to maintain, but most importantly they don't have to be built into your bathroom, rather just placed on the floor, like a large bucket.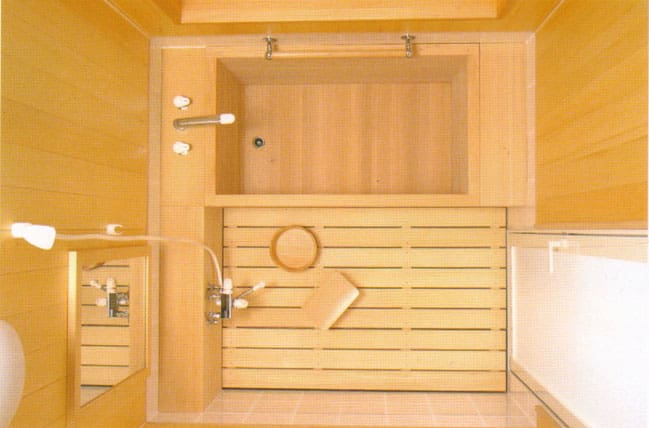 As mentioned above, the japanese style bathroom consists of the bathtub itself (yo-bune or ofuro) and the washing area (araiba). The araiba is an area in front of the tub equipped with a shower and a faucet and with a floor drain. The user would sit on a stool and take time soaping and scrubbing the whole body. Then he/she would use the shower – or scoop some of the water from the tub to rinse the body before entering in the ofuro.

For this reason, the bathroom itself needs to be waterproofed as if it was a large walk-in shower. These bathrooms can be realized in concrete blocks, waterproofed (FRP, asphalt, PVC sheet) and finished with tiles, wainscoting, etc.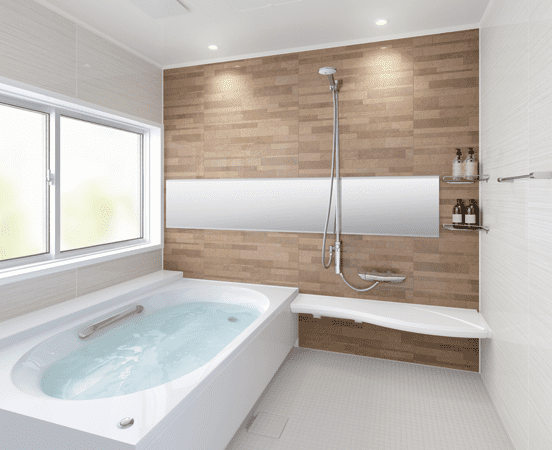 Alternatively, in Japan it is common to use Unit baths made as a shell of FRP cladded inside with printed panels or tiles. The Unit baths are light weight and can be installed in 1 or 2 days. Another advantage is that their structure is very thin so they are compact and highly space-efficient.
Common sizes are 1300x1600mm, 1600x1600mm, 1600x2400mm, 2100x3000mm and anything in between.
Bartok design is not exporting unit baths but we are at your disposal for any question about waterproofing or creating a wet room to enjoy fully the advantages of japanese style bathing. Do not hesitate to contact iacopo at japan@bartokdesign.com