★what?
I am going to create a new product thru a crowd funding campaign on indiegogo: hinoki aroma cards.
Here is the link: https://igg.me/at/hinoki-aroma-cards
Please take a look and if you like it grab yours at half of the price! (on average 1$ per card compared to the 2$ which will be the retail price from 2/2/2017)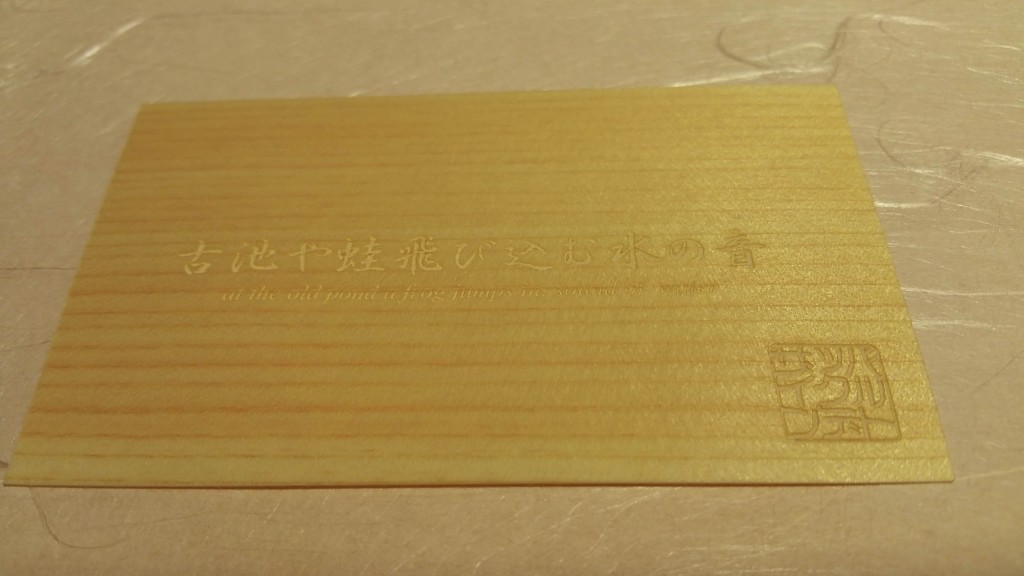 ★Origin of the idea?
It is common for somebody working in a lumberyard or a carpenter in Japan to print business cards on special cards made of laminated real wood veneer. It is different from other paper cards and leaves a lasting impression Also, it links immediately the person with the image of natural products and is easy to find it in a bunch of other cards.
Few years ago. I also started printing my business on hinoki veneer. It is done with ink jet and since the hinoki veneer is quite oily, the quality of the print is often blurry. In some of the cards (say 10%) the defect was so evident that I did not feel to use them.
I glued two of them back to back with a double stick mat and kept some in my wallet as a mini "hinoki sample" that I could handle to clients when needed.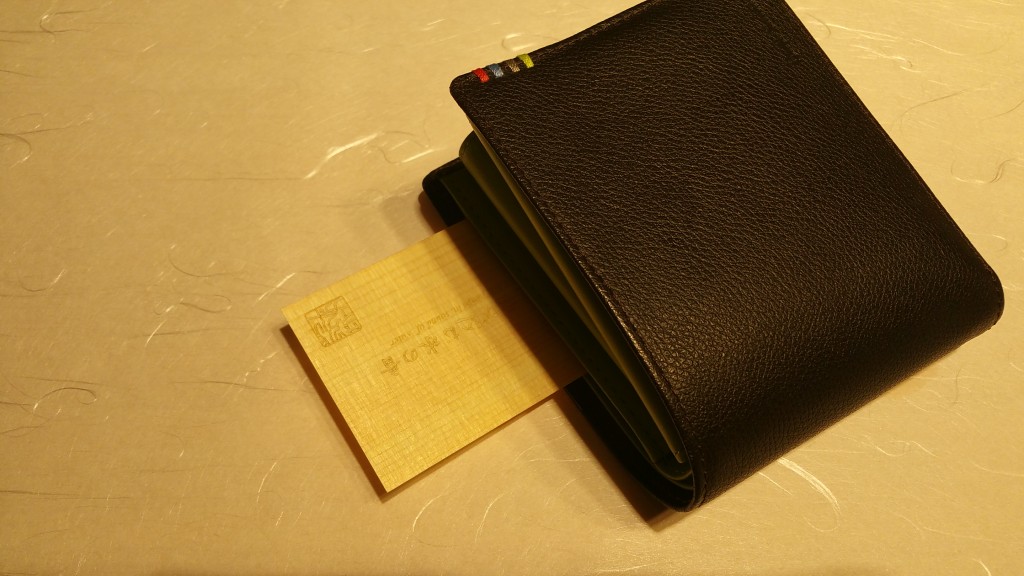 ★4 (+1) senses
When the cards are stored in their box they maintain some slight hinoki aroma, despite the wood layer is so thin.
Anyway, when exposed to the air, the aroma almost disappears completely, while the soft, smooth warm touch of hinoki is exactly the same of a solid piece of lumber.
I believe that one of the great features of hinoki (and soaking in hinoki wood bathtubs) is that enables us to re-train ourselves to the use of all the senses.
Well, unless you do not bite the wood, you cannot perceive its taste… but in a world overly visual, being able to deeply stimulate the sense of smell, touch, hearing (the water cascading in a hinoki bathtub) are very healthy exercises that help us keeping a balance.
And it is needless to say that I could spend hours at "caressing" with my eyes the refined grain, the subtle white/pink/honey color of hinoki and its shining silky surface.
I might add that thanks to the synergy of the 4 senses, hinoki wood opens the doors to a sixth sense, through the relaxing and energizing feeling of the full sensorial experience.
For "sixth sense" I intend inspiration, ability to focus, to see clearly. For others could be a feeling of healing, comfort or just deep relaxation.
★Enhanced cards
To better explain the "full sensorial experience" of hinoki – since as I said above the smell fades quickly – I thought to restore the aroma by applying some drops of hinoki essential oil on the cards. It took several minutes to be absorbed and the surface remained quite oily. The aroma is great but since the standard veneer cards are coated and are laminated on a polyethylene sheet, the aroma fades quickly.
Also, the oil acted as a diluent for the ink-jet printing and some greyish halos started to be visible in some areas of the cards as the ink melted.
Therefore I decided to have plain cards made for the purpose so I could apply the essential oil without side effects. Eventually I added the bartok logo with a laser emboss (no ink, therefore no halo).
Of course I use them as a sample but I started to give it to friends as "aroma cards".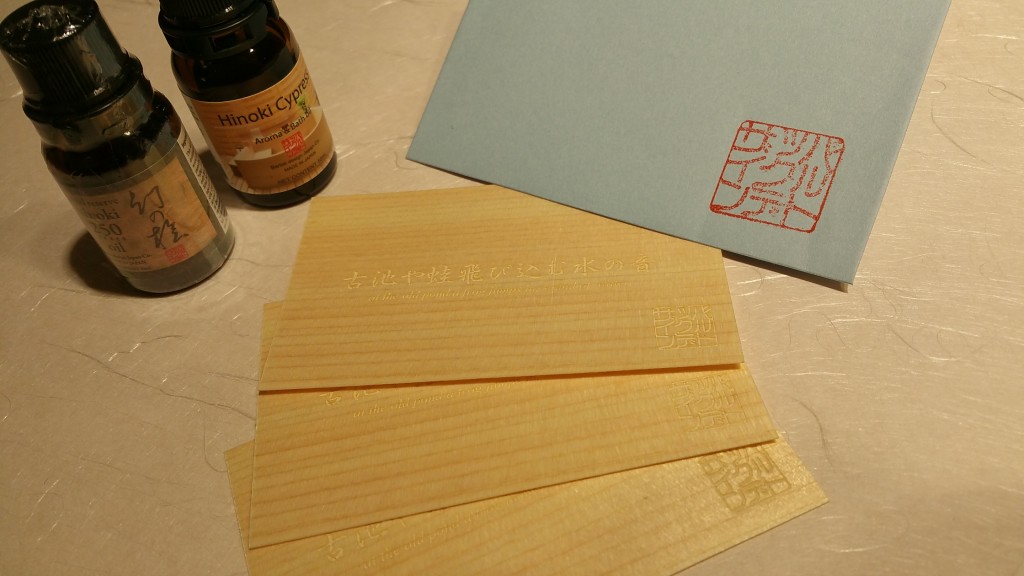 For an event, I created some cards with a haiku (short japanese poem) and the bartok logo.
The problem of the halo completely disappeared but the fragrance is very volatile.
It can last from few hours to a day (depends on the environmental conditions) but when the aroma starts to fade again you can apply one more drop of essential oil, rub it on both sides and let it dry.
I did not test the same card for more than 2-3 times (I end up giving them away…) but I am sure you can restore the fragrance in this way for hundreds of times!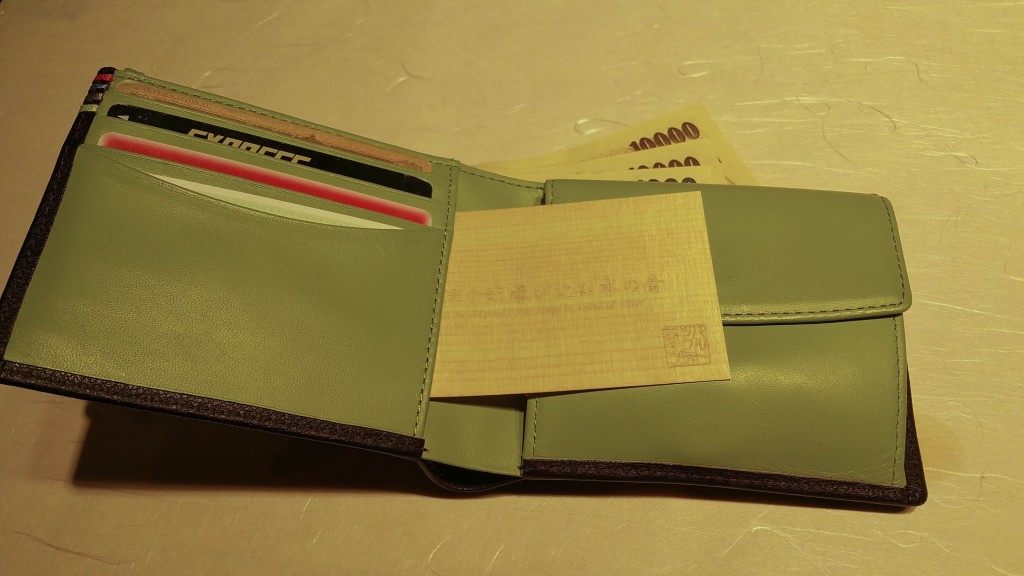 I love these cards. I always keep one in my wallet, not just as a sample but to rub it and smell it when I feel down or need to focus and take a decision.
Well, it may look strange to open your wallet and smell an aroma card, but I am sure it is much more healthy than smoking a cigarette!
★Indiegogo campaign:
The cards are nice and when I give one it is very appreciated so I decided to solve the last problem (the absorption rate of the thin veneer) and to turn it into a product.
I decided to do it under the spotlight, with a little help from my friends (and authentic japan lovers worldwide) thru a crowdfunding campaign. Again, here is the link: https://igg.me/at/hinoki-aroma-cards
The cards are very light, so I will be able to send them thru the regular air mail (like a letter) from Japan to any country. This shipping method is very economic and reliable.
With this occasion, I am also going to provide a broader choice of messages that are embossed on the wood cards.
★You will be able to choose from the following sets:
1) 3 cards + essential oil (young hinoki)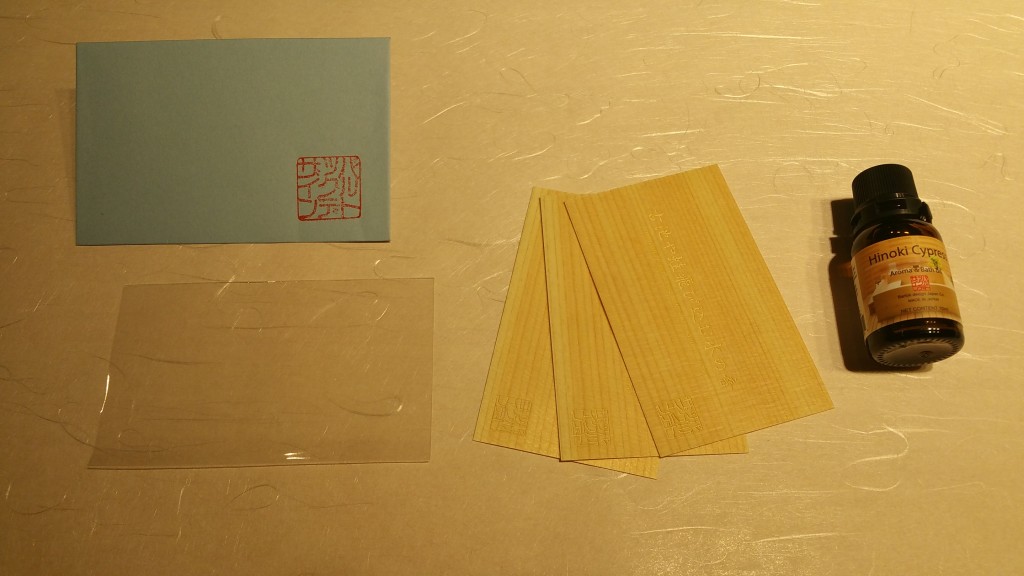 2) 5 cards + essential oil (young hinoki)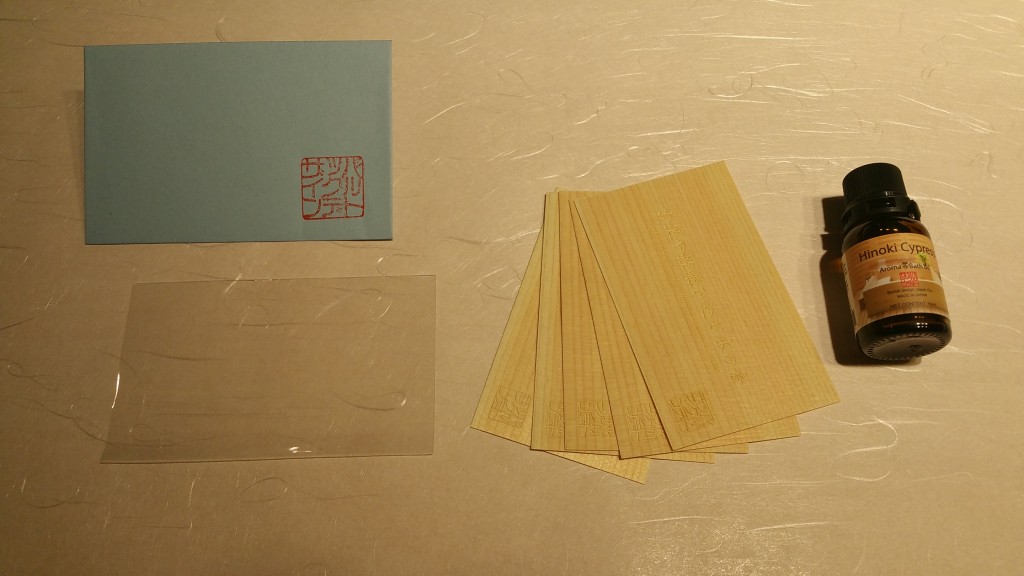 3) 10 cards + essential oil (young hinoki)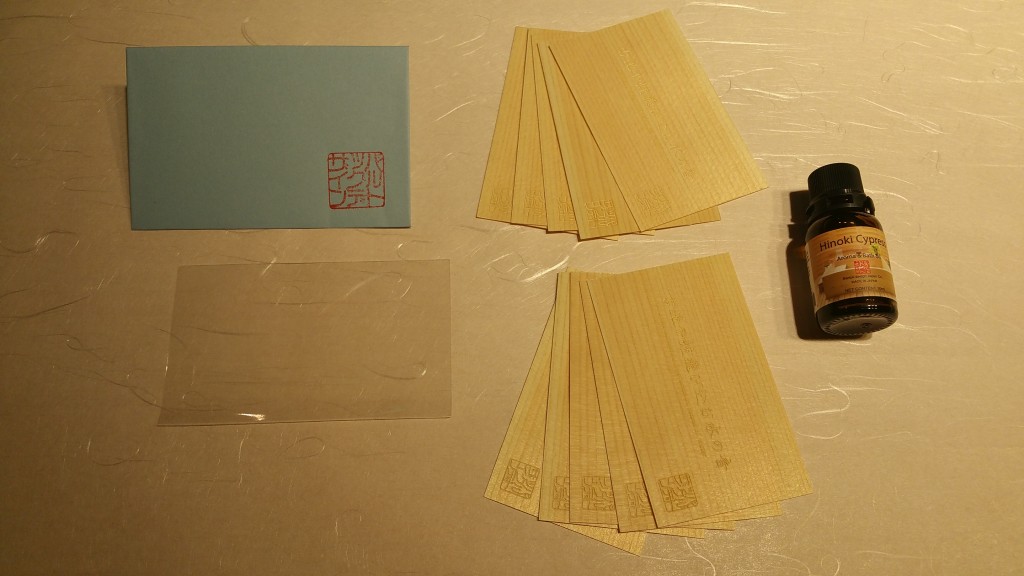 4) 3 cards + essential oil (special reserve hinoki)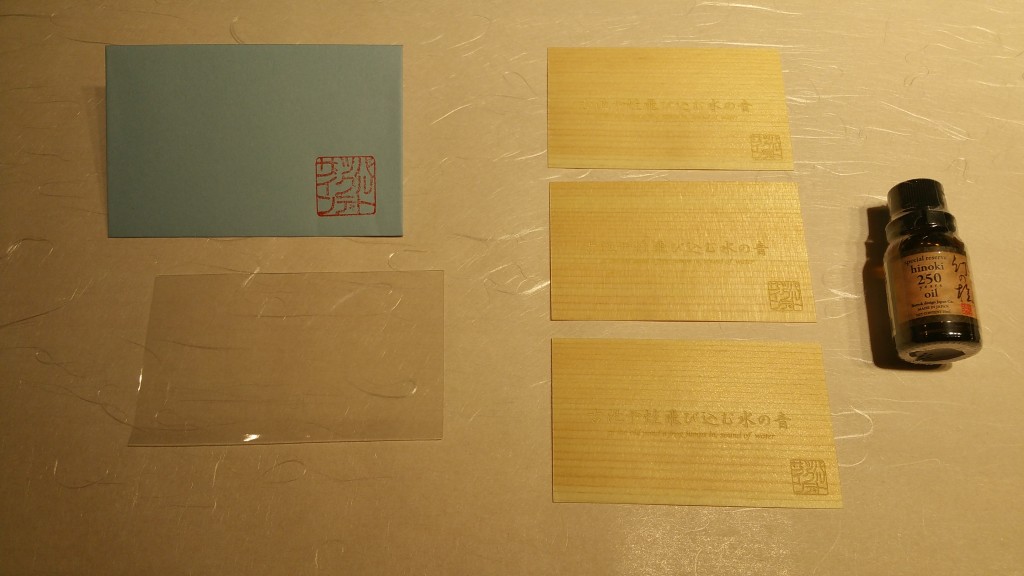 5) 5 cards + essential oil (special reserve hinoki)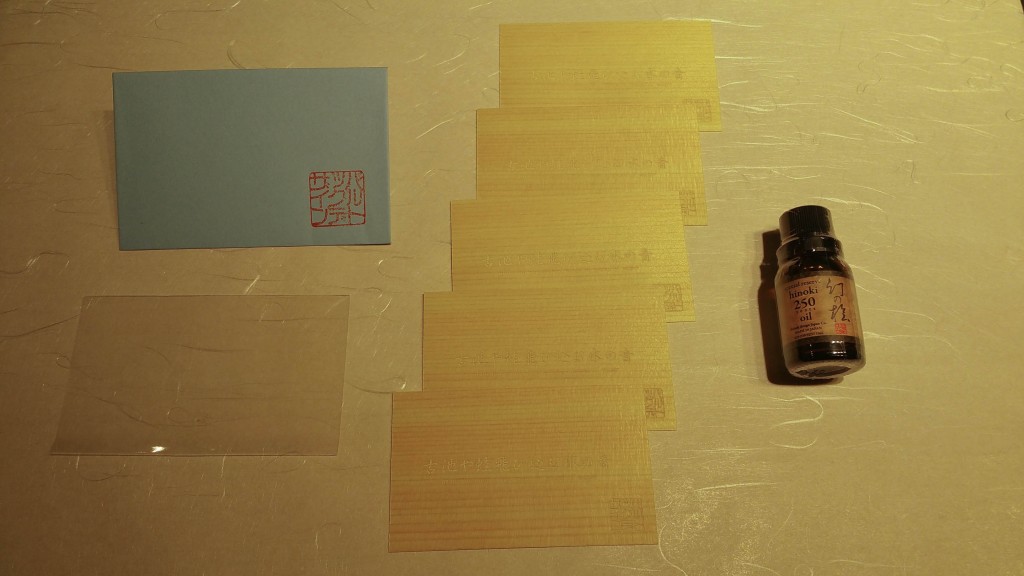 6) 10 cards + essential oil (special reserve hinoki)
7) 5 additional cards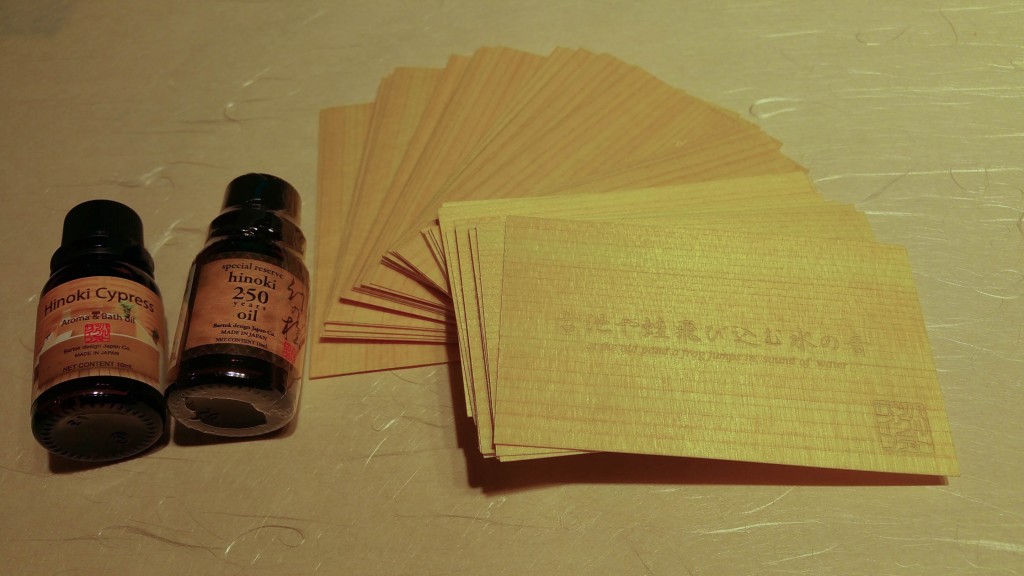 8) additional essential oil (purchase it directly from the webshop here)
・special reserve essential oil
The cards will be placed in a cellophane cover (to preserve the fragrance) and inserted in a ricepaper envelope with the bartok logo.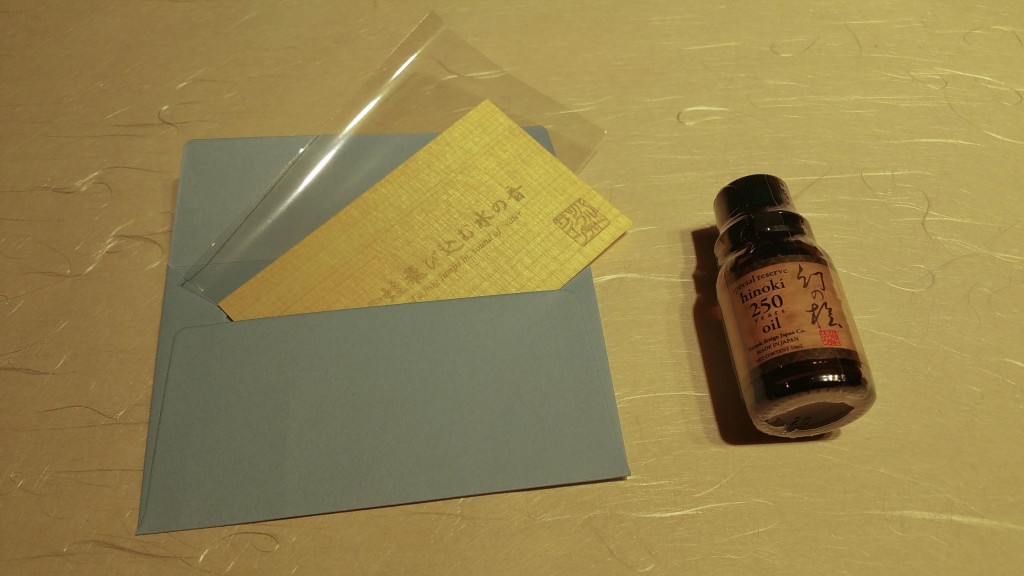 The messages (4 variations) will be chosen among the options below and from the free recommendations we will receive from you.
(click on any message below to participate to the survey. It has only 5 option and can be completed in 30-60 seconds…)
a) haiku:
From time to time
The clouds give rest
To the moon-beholders.
My arm for a pillow,
I really like myself
under the hazy moon.
No sky
no earth – but still
snowflakes fall.
Beneath cherry blossoms
who can be strangers?
Hold on to nothing, and nothing will possess you.
really, really, really good things are coming up!
When you feel you are about to fall it might mean you are about to fly!
The man who moves a mountain begins carrying away small stones.
It does not matter how slow you go as long as you do not stop!
l) mixed (motivational quotes g,h,i,j,k)
m) custom type1: let us know the preferred text.(minimum lot= 25 pcs.)
n) custom type2: send us the illustrator file with the text converted into outlines. (minimum lot= 25 pcs.)
Please note that I will not be able to mix the cards in different proportions. If you want to collect all the variations, please use the "mixed" selection here above or purchase multiple series of 5 cards each…
Since this is going to be a perfect present idea, I will wrap the essential oil with ricepaper during the campaign period. (Normally it will be wrapped in air packing only).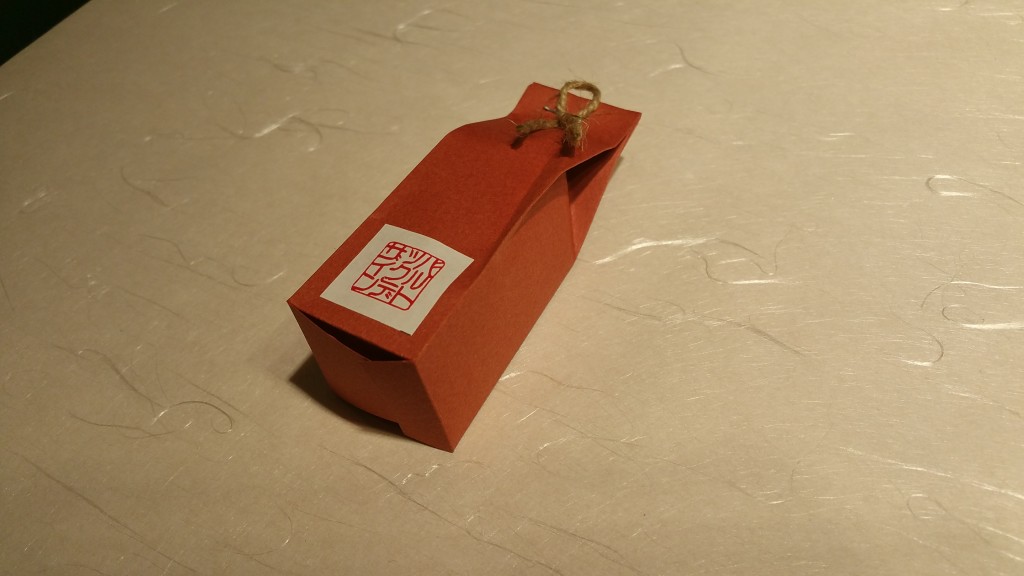 Once again, if you want to know more please visit the crowdfunding campaign here :
https://igg.me/at/hinoki-aroma-cards
Also – as stated above – remember that because of the volume order I will make, the aroma cards are sold with a 50% discount ( 1$ per card compared to the 2$ which will be the retail price from 2/2/2017). This discount will not appy to the oil, anyway shipping charges to America and Europe will be considerably cheaper than normal shop conditions.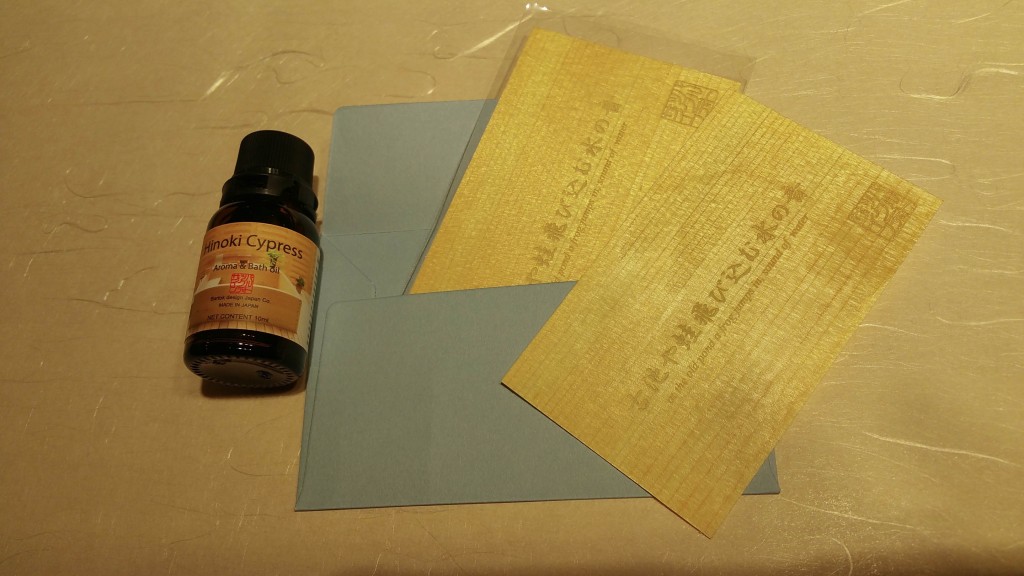 Thank you for reading until the end and have a nice day//