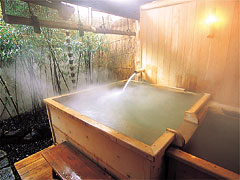 Wood & water: a natural heaven. Japanese wood baths are used for soaking, not for washing. While we relax our body in the bath, natural oils with medical properties and soothing fragrances are released in the warm water for a sensation of extreme wellbeing.
An outdoors hinoki wood "rotenburo" ->


Soaking in warm water for 30 minutes to 1 hour everyday:
It may sound strange to our westerner`s ears but your body will get instinctively in harmony with this healthy custom. Bathing in a wood tub: the scents, the soft touch of wood, the tidy beauty of its grain magnified thru the clear water, represents the ultimate holistic experience.
You will find yourself energized, rejuvaneted, relaxed. Read thru the bottom of this page to see WHY.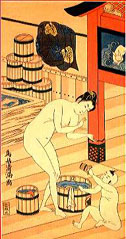 Why are the japanese so proud of their baths and hot springs? The Japanese ritual of the bath has several reasons besides the obvious purpose of hygene. A warm bath stimulates blood circulation and decongestionates the linfatic system: this is effective both in washing off the sweath of the torrid summer and in preventing cold and influenza during the rigid japanese winter. Medical evidence has been found that a correct warm bath has positive effects on the health of body and mind, also thanks to the curative and emollient effect of minerals and oils present in the water. Recent research proves how negatively charged ions present in the water and steam of a bath "scrub off" magnetic tensions and free radicals, having an "antiage" effect on the whole body. Negative ions also have experimented psychological benefits, imparting a feeling of security and sense of refreshment while they soothe the body. Such ions tend to be generated by waterfalls, fountains, and other sources of agitated water. When bathing japanese style, we first soap and scrub, then we rinse and only when we are "physically clean", we enter in the bathtub for soaking (at least 30 minutes). Because the body is washed outside the bath, the bath water stays clean and deeply refreshing.



Why are the japanese so proud of their baths and hot springs? A HINOKI bathtub is ideal for a provides a full sensory experience: beautiful white cedar with a rich grain, smooth texture, soothing lemony fragrance, and the warm comfort of soaking away all the tension and stress of the day.