The "hinoki aroma cards" campaign had a slow start but is picking up and I am now hoping we can reach the goal! See -> https://igg.me/at/hinoki-aroma-cards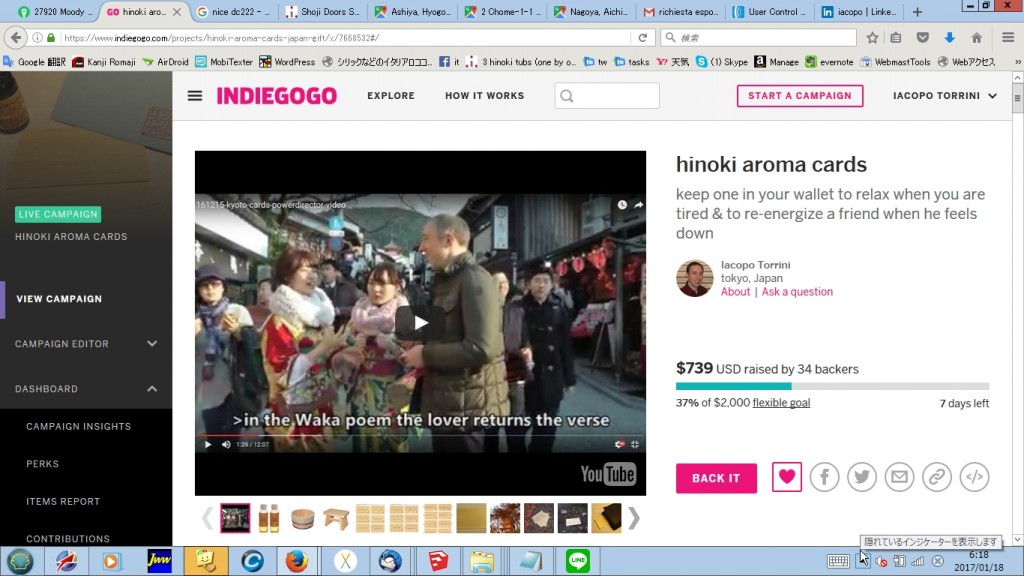 We are 37% funded but have only one week left… Please spread the word!
Here below I am reporting a mail exchange I had with a fellow "japanese lover" who kindly replied to my newsletter. I think that many people feel uneasy about "crowdfunding" all together. I would like to hear everybody`s opinion about!
---
Question:
Hello Iacopo,
You are a very busy man….
I see your mails I see the info but I am not understanding what you are
doing?
You need venture capital for the new aroma cards from what I understand.
What market is there for the cards ?  Where I am based in *****, I do
not see one, Therefore I would like to know more.
Please give me a short 1 paragraph of what you envisage.
Thanks for response when you can.
Kind regards,
*****
---
My answer:
Dear *****,
Thank you for your interest.
Crowdfunding is a new (not so new anymore…) system.
It is not only for raising capital. I am doing this project on indiegogo mainly for 4 reasons:
1) it helps me to promote the project (and my brand) thru social media and newsfeeds. Promoting a "product" may feel pushy but promoting a "project" is more interesting and creates involvement.
2) it helps me to study the market needs. By developing a product thru the advice and ideas of the end users, I end up with a more evolved and better targeted product.
3) if I get the campaign funded, the product itself will be more convincing as it could win the heart and obtain the commitment from many people.
4) ultimately, it helps me to broaden my avatar. I am devoted in helping the traditional crafts (not with donations, but with a new market for their skills)  + I believe our society needs a more human and sensorial culture.
My activity in the production of wooden bathtubs helps me progress in both missions. But japanese crafts is not only ofuro bathtubs and I am interested in exploring new markets.
I think there is a huge market for motivational message cards.
https://www.google.co.jp/search?q=motivational+cards&ie=utf-8&oe=utf-8&client=firefox-b-ab&gfe_rd=cr&ei=UEV-WJ2cG6fU8AeGm6vgCg
Additionally hinoki cards allow you to bring always the aroma with you!
Also they are more resistant and noble than paper.
This is my thought.
I would appreciate to hear your opinion!
All the Best//
iacopo
---
How about your opinion? Please comment below!