Channel 19, a major TV broadcasting company in japan contacted with reference to our hinoki bathtubs…!
They run a very popular program: "Wafū Sōhonke" which would translate "total Japanese traditional house". They make a show every week (with rebroadcasting on saturdays) about japanese traditional crafts. -> -> http://www.tv-osaka.co.jp/ip4/wafu/
They shoot 2 locations where our tubs are installed, in Italy and California.
I am also looking forward to see it and hear the clients`s comments !!
The program will be aired on 2/16, see more details here below:
---
Show Title:Wafu Souhonke – Produced by TV Osaka/Aired Nationwide by TV Tokyo
On air Every Thursday Night 9:00PM~
Aired Date: February 16th, 2012 (Thursday) 9:00PM 1.5hour Special
Cast: Takeo Chii, Hisako Manda, Takahiro Azuma and more
Show Summary) Through this show, we are reporting the "Heart of Japan" to our audience.
We want to reconsider "Japanese Culture" that we think we know, but we actually might not.
Project Title: Made in Japan Products That Are Found in the World-Part 2
Project Summary:
The skills and quality in goods created in Japan are kept by the Japanese craftsman and those are not only recognized in Japan but also in the world. Japanese products are utilized in unexpected places in the world. This project is a part 2 of a search of those unknown "Made in Japan" goods in the world.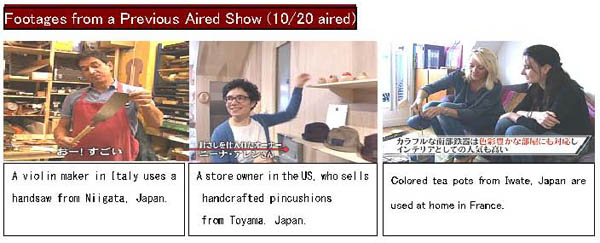 ---