The world's first daybed made entirely of wood, with no metal parts
---
Let's bring this stunning piece of furniture to the world together.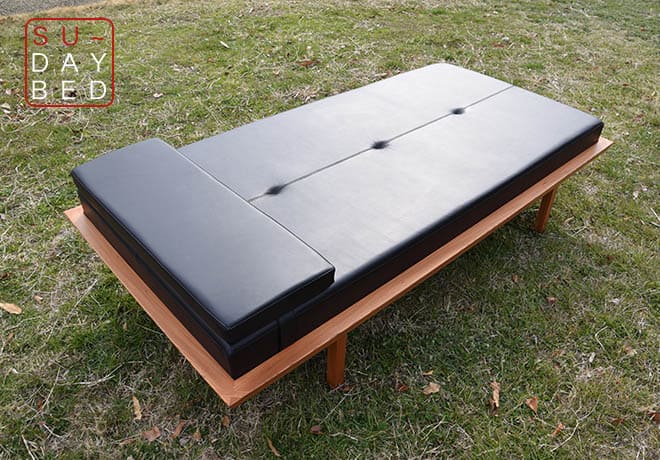 ---
Sales Bullets
you earn 25% of the product sale price for each one you sell
high ticket price guarantees you 2 GRANDS+ for each sale!
this product is handmade, an original design
it will be made in Japan, following traditional craftsmanship techniques – there is nothing like it in the world
with the 2020 Tokyo Olympics approaching all eyes are on Japan – catch your share of an enamoured market
---
Why day bed?
I like to stress this concept because it is the most important point you need to understand about this product.
Please try to make a google search about "daybed". It is a niche. A golden niche. Of course there are some low-cost models by IKEA or Amazon.
Some designs are country, other modern, other are DIY.
But please, let me know your opinion on this: if you were the CEO of your company and wanted a simple sofa to keep in your private office which could also serve as a bed for a quick nap. You only need one, right.
Not two, not three, just one.
Here is the question: would you settle for a 500 USD item?
Or would you look for a more luxury and/or personalized item?
How would you reply to another CEO visiting you in your office?
…"I just got it from IKEA at 399.99″…
Would it be OK for you to have this conversation?

Thank you for the simulation exercise.
If you felt as a CEO who wanted to an item able to state his personality, to speak for his taste and policy… well, I think you are in good company.
There are more daybeds in the 5,000-15,000 USD range than you can imagine. Think of the timeless designs of Lecorbusier's LC5 or Mies` Barcelona. There are many heavenly refined models by scandinavian designers such as Poul Kjaerhold, Ben Erikson, Carl Hansen, Martin Høgh Olsen or Craig Bassam and Scott Fellows. You can browse these items on the internet.

It depends on your personal taste, you may find your favorite.
But for the people still looking for something more rare, bespoke, unique, with the SU~ we are offering 2 yummy unique features:
the SU~ is the first and only (at least as july 2019) which does not contain metal parts. If the potential buyer is into EMG screening, grounding, druidry or meditation this is IT!
Japan theme. There are no other bespoke daybed with a Japanese design. So it is the obvious choice for the financial operators, new economy entrepreneurs, modern design freaks etc. who love minimalism and everything japan.
I trust you will be able to find also other markets but just keep in mind you will definitely have an edge with the 2 categories above.
---
The Target Market
The discerning minimalist is looking for a striking statement piece to place carefully in his or her Japanese-inspired home.
Minimalist Japanese homes typically don't have a lot of furniture in them but when they do, it's a simple yet stunning piece such as the Su~ Daybed.
A classic piece such as a daybed is at home in a modern environment where wood adds warmth to the room. The leather cushion is timeless and can be a little bit edgy and unexpected in a family home.
Place the Su~ Daybed in your office to greet clients over coffee and sneak in an energizing nap after a long evening at the desk.
Imagine lazy afternoons in front of a picture window, perhaps overlooking a Japanese garden, cozy with a throw rug and the newspaper.
---
The luxury buyer has an appreciation for fine craftsmanship and attention to detail. He or she is seeking products or experiences that are simply not available to the masses.
This buyer has exquisite taste and has been waiting for something like the Su~ Daybed to come into his life. He relishes the fact that the wood from which it is made is somewhat rare – keyaki (Japanese Zelkova) and chosen for its beauty.

He is not one to brag but he cares about the details. He will be impressed that the Su~ Daybed is made according to centuries-old Japanese furniture-making techniques and does not include even one metal part – incredible! It's definitely a talking point. No nails, no bolts or screws, just beautifully shaped wood.
---
product specs & manufacture
for the specs, photos, diagrams and description of the traditional japanese carpentry techniques, refer to the pitch page:
https://bartokdesign.com/su-daybed
---
Keywords
Use these keywords in your product advertising to capture the right niche market for this unique and luxurious piece of furniture.
luxury, bespoke furniture, custom-made furniture, wooden furniture, leather, wood, handcrafted, bespoke, artisanal, minimalism, minimalist furniture, statement piece, zen, built-to-last, one-of-a-kind, original design, Japanese woodworking, Japanese carpentry
---
Share these videos on your sales pages
Please do not hesitate to contact me with any questions or problems.
Let's be successful together!
---
About Us
I am Iacopo Torrini, an Italian architect and designer living in Japan. My company, Bartok design, custom-builds interior furniture items such as wooden bathtubs, sliding doors and the Su~ Daybed. My passion lies in sharing the history and traditional craftsmanship of Japan with the world.

We have been in business for more than twenty years and have an established reputation for superior quality and exceptional customer service. I invite you to get in touch with me directly so we can get to know each other and you can share the story of these wonderful Japanese products with your discerning customers.
---
mail: japan@bartokdesign.com
whatsapp/phone: (+81)90-8205-1200
facebook: https://www.facebook.com/itorrini
USEFUL LINKS:
pitch page: https://bartokdesign.com/su-daybed
thank you page: https://bartokdesign.com/suu-daybed-thanks
youtube channel: https://www.youtube.com/channel/UCsCkOuYREAs0db3tt_DLppA?view_as=subscriber
---
More about our discerning customers
Japan is one of the top travel destinations for the luxury traveller. Take a look at the promotional materials published by cruise company Abercrombie & Kent: Wonders of Japan 2020, Luxury Expedition Cruises

IHG hotel group is set to open a new high-class hotel in the hot spring region of Kyushu, Japan in August 2019 ahead of the Rugby World Cup. The Intercontinental Beppu is luxury like you've never seen.

Not a day goes by that Japanese architecture is not mentioned in the news, take a look at the trends on industry leader Dezeen, reporting on Japan.
---
Contact us for more information
---
Disclaimer
Earnings Disclaimer: we make no guarantee about how much you will earn by promoting our product, any figures mentioned are an estimate, not a guarantee.
Anti-Spam Policy: we will not tolerate affiliates who promote our product through illegal or unethical technique. ClickBank may terminate your affiliate account, and that they will not be allowed to promote your product if they do so.
---
…enjoying life, japanese style!
Brought to you by Bartok design, Japan.