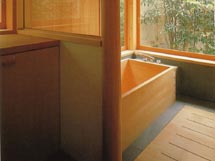 SUEOKI type
The bathtub is positioned on the floor in such a way that the wooden front is exposed. This solution is preferred when also the walls are finished in wood or just to enhance the elegant simplicity of the space. See the details for more info.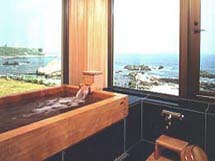 UMEKOMI type
The bathtub is recessed and it is mostly visible the inside rather than the outside. This solution may be slightly and limits the cleaning and maintenance to the interior surface. See the details for more info.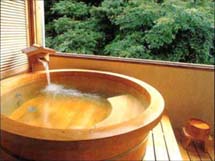 CUSTOM type
Any size, from family to pool type. Any shape including round, oval, poligonal etc.
---
For your reference, common sizes(*) are:
(see also the standard tub sizes pricelist)
We can build any size as per your specification at no extra cost, please inquire.
S1) 0900L x 0700W x 690H
S2) 1000L x 0700W x 690H
S3) 1100L x 0700W x 690H
S4) 1200L x 0750W x 660H
S5) 1300L x 0750W x 660H
M6) 1400L x 0750W x 666H
M7) 1500L x 0750W x 616H
L8) 1800L x 1000W x 616H
R9) 1400φ x 750H
(*) sizes (mm) are external