Newsflash!
×
NEWSFLASH! NEWSFLASH!NEWSFLASH! NEWSFLASH!NEWSFLASH! NEWSFLASH!NEWSFLASH!
We're thrilled to announce that we'll be at the ISPA Conference and Expo in
Phoenix, Arizona from September 24 – 26.
Find us at booth #1718 in the Exhibit Hall
We're proud to be sharing our newest technology, the "kakehashi" bath with a completely flexible design allowing a bath to be made in any shape you can imagine! You might also be interested in reading about some of our other commercial projects, click the links below to see the works.
Our founder / architect is in Phoenix for the duration of the event and would love to meet to talk over your needs. Registered attendees of the ISPA Expo can communicate with us directly through our Exhibitor Profile. Or contact us by email: japan@bartokdesign.com|
---
Where are we today? We're on our way back to Japan – catch us in Kobe as we prepare for ISPA Phoenix next week!
---
At Bartok design, we are bath lovers just like you! We supply custom-made Japanese soaking tubs (ofuro) to the world.  Our tubs are crafted from indigenous Japanese woods such as hinoki, which our craftsmen personally select for each handbuilt bathtub.  Our relationship with these craftsmen goes back decades.  We are confident that we can build the bathtub of your dreams for your commercial project or your home bathroom.

You'll find a lot of resources and information on our website. Please email us if you have any questions and when you are ready to place your order. Iacopo Torrini Company President, Bartok design
contact us by email: japan@bartokdesign.com

Made to Order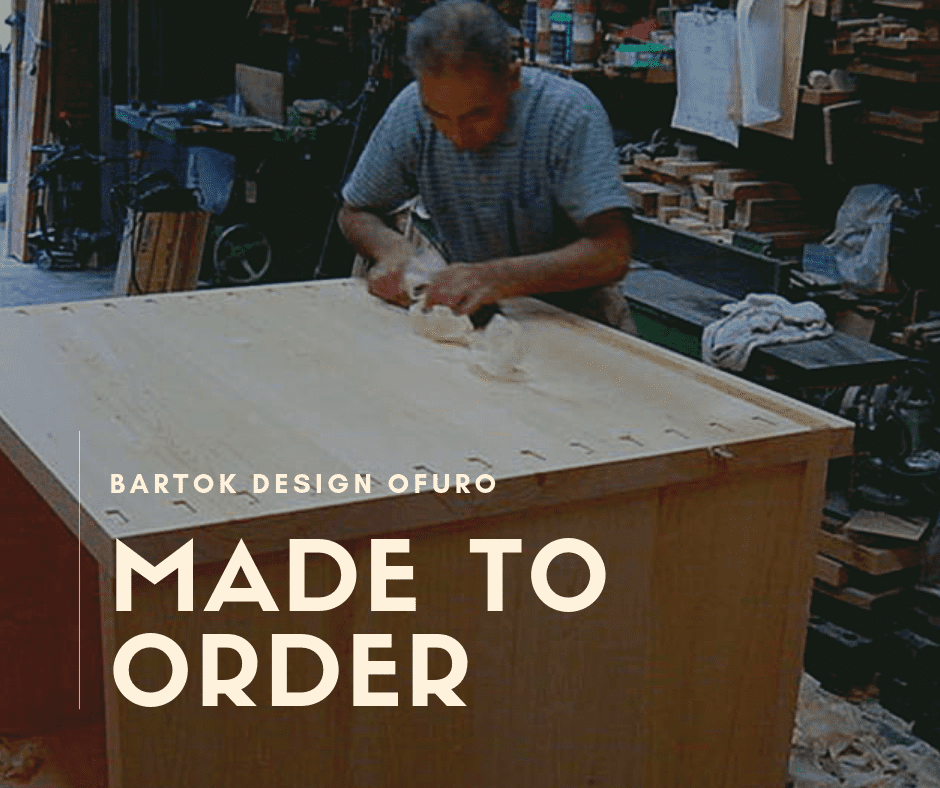 All our ofuros are custommade (after we receive an order). We do not carry stock for three reasons:

1) the ofuros are handmade to your specifications so there is little merit to producing them in series.
2) producing unconfirmed standard tubs would increase our stock risk which would affect the prices of the products.
3) Last but most important: YES, we can build a tub that matches exactly your space (to the millimeter) and of course your taste and needs.
Please use this gallery of past projects as a reference to get ideas and inspiration. Many clients just ask us to "make the same as the XYZ tub".
Of course you can customize the design and add options as explained in the DETAILS section.
-> more custom-made ofuros
Commerical Projects
We are proud to supply genuine Japanese ofuro for commercial projects such as hotels, wellness centers, spas etc. Our founder is a licenced architect who speaks Italian, English and Japanese. Please do not hesitate to contact us if your client is dreaming of a Japanese onsen in their commercial establishment.


1) Materials used are Hinoki B grade (small knots), Koyamaki (Knotty) Asnaro wood and Sawara (for barrel type tubs.) We strive to provide the best prices while remaining faithful to our concept: only old growth lumber from the Kiso Valley or Aomori prefecture. No imported wood or man planted lumber is used for the tubs.

2) In the case of orders for multiple tubs, we can ship in full load containers thus reducing the shipping cost.

3) The tubs are pre-assembled but in case of necessity, we can send a carpenter on site to assist with the installation.

4) We can supply accessories such as stools, buckets, duckboards and lumber for millwork to match the ofuros.

* Note: essences of the hinoki family cannot be used in saunas as their aromatic oil content would be released in large quantities and would cause eye irritation. Please contact us for more information and alternative suggestions.

VIEW THE GALLERY BELOW TO SEE SOME OF THE AWARD WINNING BUSINESSES WE HAVE WORKED WITH

-> more B2B projects
Happy Customers
These are the pictures and comments kindly shared by our happy customers! Most of these baths were made for home-use in private residences. We appreciate our customers sharing these photos of their wonderful homes, kids and pets!

-> more testimonials
Outlet Tubs
From time to time we may have some tubs readymade and ready to ship for the following reasons:

1) The client changed their mind during construction and order a different shape/size. They asked us to resell the unwanted tub (with a discount)
2) We used the tub for a mockup, for a demonstration or a photoshoot
3) We had a small lot of material just enough for this tub and we built it in the spare time between orders
In all the cases above the tubs are not second-hand and do not have defects or problems.

If you are lucky that a readily available tub matches your requirements/sizes, go for it. You are saving from 15% to 30% on regular prices! (Any outlet baths we have are quickly snapped up so make sure you let us know the moment you see it, if you are interested, but understand they are sold on a first-come, first-served basis).

-> more outlet tubs

[/parallax]
Latest News from Our Blog
Shipment schedule
If you can match the period/destination chances are that we can provide a discounted shipping rate for both parties



Back to top